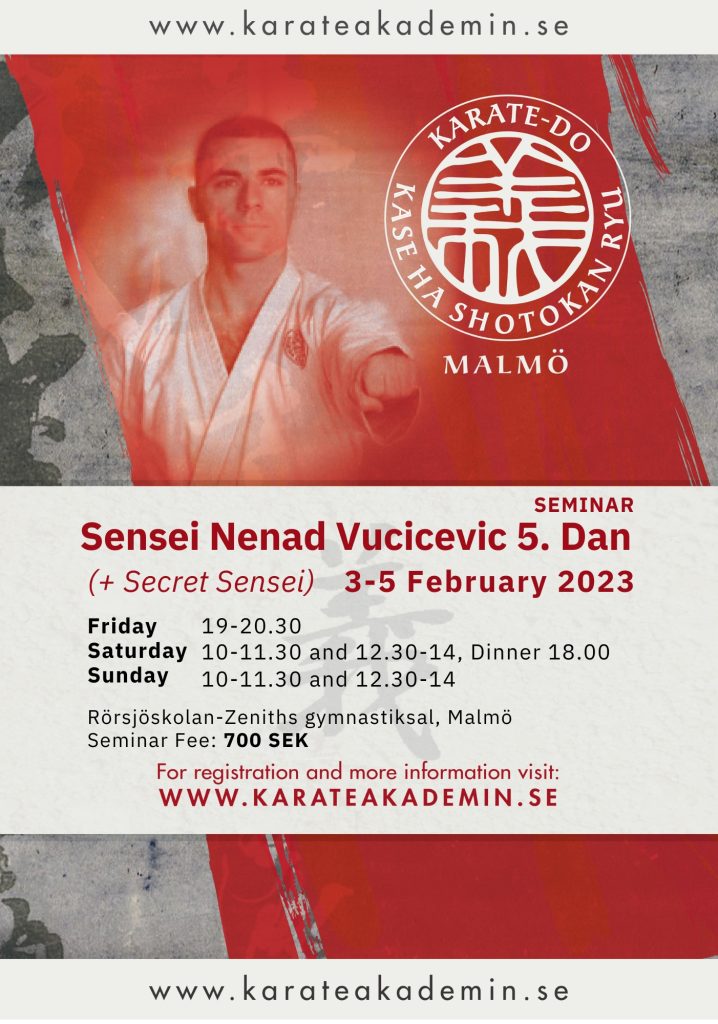 Vi är glada och stolta att kunna bjuda in till träningsläger med NENAD VUCICEVIC, 5 dan
Nenad är en storartad pedagog som kombinerar mer än 30 års djupdykning i traditionell karate och budo med den mest uppdaterade idrottsvetenskapen.
Med tydlighet, kunskap och humor leder han dig till din bästa karate!
Vi är glada att kunna bjuda in till denna fantastiska helg, välkommen! (samt, om vi har tur, blir vi även gästade av en secret sensei!)
ANMÄLAN och frågor sker via mejl info@karateakademin.se
Lägret lämpar sig för 7 kyu och uppåt.
Vi rekommenderar Scandic City för boende
PLATS
Rörsjöskolan-Zenith, Trähallen
Zenithgatan 68
212 14 Malmö
KARTA: https://www.google.com/maps/place/Zenithgatan+68,+212+14+Malm%C3%B6/@55.6020489,13.0187855,17z/data=!3m1!4b1!4m5!3m4!1s0x4653a3e06d1f1bdd:0x168d6b50c420f62f!8m2!3d55.6020489!4d13.0209742
ENGLISH
Welcome to an extraordinary weekend of deepening at Karateakademin in Malmö!
We are happy and proud to invite you to a karate stage with Nenad Vucicevic, 5 dan
Nenad is a superb pedagogue who combines more than 30 years of diving deep into traditional karate and budo with cutting edge sports science.
With clarity, knowledge and humor he will guide you to your best karate!
We are happy to invite you to this fantastic weekend in the dojo, you are welcome! (and, if we are so lucky, we will have a visit from a secret sensei!)
REGISTRATION and questions by mail at info@karateakademin.se
The stage is suited from 7 kyu.
Recommended accomodation is Scandic City
DOJO
Rörsjöskolan-Zenith, Trähallen
Zenithgatan 68
212 14 Malmö
MAP: https://www.google.com/maps/place/Zenithgatan+68,+212+14+Malm%C3%B6/@55.6020489,13.0187855,17z/data=!3m1!4b1!4m5!3m4!1s0x4653a3e06d1f1bdd:0x168d6b50c420f62f!8m2!3d55.6020489!4d13.0209742