Evenemang
På denna sida samlar vi information om , för klubben, intressanta evenemang. Kase Ha Karate-do Akademi Malmö deltar regelbundet i  aktiviteter för att kontinuerligt utvecklas i teori och praktik av Kase Ha Shotokan Ryu. Här kommer även information om Anettes olika seminarier och träningsläger finnas. Om Medlemmar vill dela med sig av sina personliga berättelser från någon aktivitet så skicka en berättelse till klubbens info-mail.
2016
Seminarium med Sensei Vebo in Malmö, April 2016.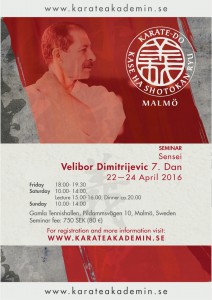 Thank you all who contributed to making our seminar with sensei Velibor Dimitrijevic even more rewarding and enjoyable, welcome back to Malmö 21-23 of April 2017!
[print_gllr id=1064 display=short]
2015
Seminarium med Sensei Alan Armstrong 6. dan (UK)
Technical Advisor KSKA England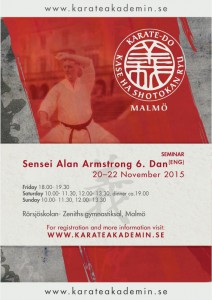 Efter 45 års karateutövande har Sensei Alan en mycket skarp blick för vad varje karateka behöver göra för att förbättras i sitt praktiserande. Han delar med sig av såväl bred som djup kunskap på ett pedagogiskt sätt. Kase Ha Karate Do akademi, Malmö bjuder in till seminarium av högsta klass! Vidare info om Sensei Alan
Här kan man se lite bilder från Seminariet:
[print_gllr id=887 display=short]
Retreat Hästveda 2015
[print_gllr id=991 display=short]
"Not until I got home from the intense weekend of karate and meditation with Sensei Anette as an instructor, it became clear how much I had actually changed. Energy had flowed more freely in the body and was easily released. I noticed a different alertness in me. Suddenly a "normal" day was much more exhausting. Sensations during the day much stronger and they penetrated deeply into the body. It made me realize how much karate is really needed in everyday life, how keywords such as breathing, stability, Hara, mindfulness and intention contribute to increased well-being. 
The retreat gave all participants a chance to an inner journey. Sensei Anette led six sessions with different tools to work with, that gave us a deeper insight into karate. The ground contact was established in different dachi during the first practice. We allowed our feet to explore their love to the ground, dig deeper and deeper and then merge. Next thing to focus on was the breathing, "control your breath and you control your mind". The third focus was Tanden, a hard practice with a lot of movements. Mind in Tanden. All movements starting from Tanden. Heat created from inside and the flow of energy spreading to the rest of the body. Saturday night ended with a training that focused on thoughts and feelings, and not to let one of our senses dominate all the others. More power, more speed, constantly striving for more and reach beyond our limits but with compassion in mind. During this training a variety of sensations occured, but we were not to evaluate any of them as good or bad just be aware of the different sensations. The last day of practice we focused on mindfulness and thoughts. We had to clear our mind of all distractions to be more explosive. After each karate training we walked mindfully for 30 minutes. We walked in silence in a controlled and conscious manner. All meals during the weekend was carefully designed to create as many pleasurable sensations as possible.
The food was organic, vegetarian and vegan. No talking during the meals. In the end, it was a very harmonius experience.
Sensei Anette showed movies of Taiji Kase and held lectures that concerned our six senses (including thinking mind and feeling body as two different senses), and how we should relate to them, about the search for answers to existential questions, how we can use our energy for something good instead of being destructive and much more.
Whether we wanted it or not, we were all forced to meet and socialize with ourselves during the activities of the weekend. We got the chance to explore ourselves inside out and perhaps realize how little that is really explored of our full potential.
I speak for all participants during this fruitful weekend when I say that it was very much appreciated and made us more open minded. What sensei Anette taught us will be brought to every karate training as well as be our faithful companion in everyday life."
/Carro-san
Träningsläger med Sensei Velibor Dimtrijevic i Loutraki, 3-7 Juni

[print_gllr id=973 display=short]
Seminarium med Sensei Alan Armstrong 6. dan (UK) 
Technical Advisor KSKA England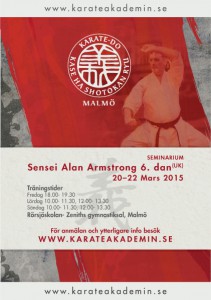 2014
 Träningsläger med Velibor Dimitrijevic, Loutraki, Grekland.
[print_gllr id=784 display=short]
Karate-seminarium med Anette Pavlovic-Nilsson, Hombu Dojo, Sonkajärvi, Finland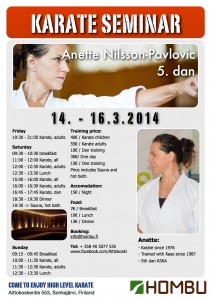 Gasshuku Cadiz, Våren 2014
Gasshuku Helsinki, Våren 2014